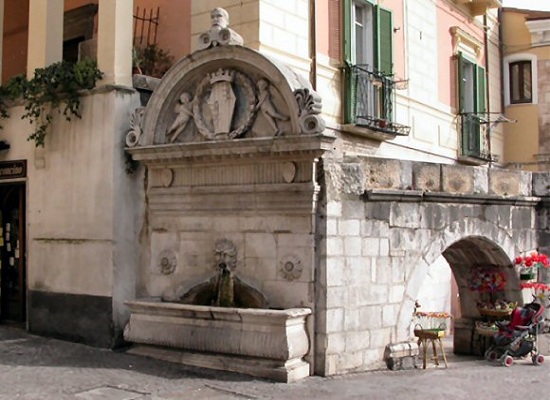 The Fontana del Vecchio
The Fontana del Vecchio (Fountain of the Old Man) was built in 1474 by Captain Tiberti Polidoro from Cesena, and it represents one of the most important examples of the Renaissance period art in Sulmona.
The upper plaque carries the inscription:
"POLYDORUS TYBERTUS CAESENAS PRAETOR SULMONIS CLARUS ET INSIGNIS SUB INVICTIS SIMO REGE FERDINANDO QUOI PRAETAER SICILIE REGNUM YTALIAM OMNEM PACE SE (davi) T OPUS HOC NOBILE STRUXIT ET VIAS URBIS STAERNENS MARMORE INCRUSTAVIT MCCCCLXXIIII".
It takes its name from the "bearded head above the lunette set on the trabeation where the inscription with the date and the name of the client is engraved"[1].
The top part of the original structure was preserved, with the trabeation and the semicircular fronton, while the basin that was originally formed by smooth stone plates in 1901 was replaced with a sarcophagus-type one.
In the lunette of the fronton the emblem of Aragon is carved – inside the wreath of flowers supported by two angels. The ornament below shows two emblems of Sulmona with the initials SMPE (sulmo mihi patria est – Sulmona is my native land).
Two flower-shaped chimeras complete the fountain, while the acroterion is formed by a bearded head (from which water is streaming down) between two rosettes, joined by a ribbon bearing the inscription "vechio" (old man).[2]
[1] Mattiocco, Papponetti, 1996, p. 74.

Fontana del Vecchio Sulmona Click on the map for a bigger version
Bibliography
Mattiocco Ezio, Papponetti Giuseppe, Sulmona città d'arte e poeti, Pescara, Carsa Edizioni, 1996.
Piccirilli Guido, Sulmona. Guida storico artistica, Milano, Moneta editore.
The Fontana del Vecchio by Antonella Capaldo translated by Yulia Shcherbakova is distributed with the licence Creative Commons Attribution-NonCommercial-NoDerivatives 4.0 International.
Further permits in regards with the purposes of the present licence can be available via https://www.sulmonalive.it/contattaci.