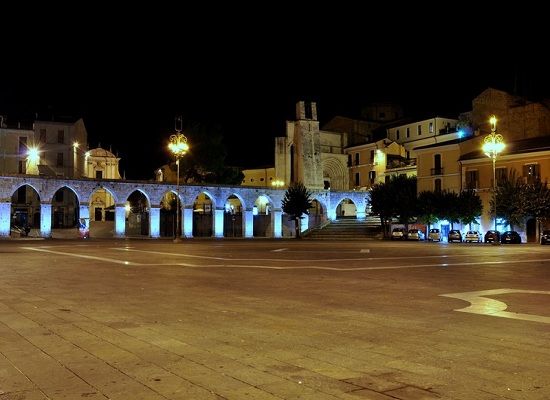 Sulmona Garibaldi Square
The picturesque Garibaldi Square (Piazza Garibaldi) is the largest square of the town, and it has always hosted the local market held twice a week on Wednesday and Saturday mornings.
The Town Council of 7 June 1882 denominated the square as Piazza Maggiore and Piazza Grande in place of the old titles[1].
The space bounded by the old city walls, the arches of the aqueduct, and the new area of the town, had been taking shape gradually until it gained a present conformation and consolidated its function of the "Market Square".
Already in the past, it used to house shows and public events, and today, in the course of every year, welcomes the town's most important events, such as the Giostra Cavalleresca (Medieval Tournament), the "Madonna che scappa in piazza" (Madonna running in the square), and other summer festivals and religious events.
It is one of the biggest squares in Italy.
---
[1] Maiorano, 2012,  p.112.

Sulmona Garibaldi Square Click on the map for a bigger version

Bibliography
Maiorano F. V., Strademecum. Toponomastica storica e contemporanea della Città di Sulmona, Accademia degli Agghiacciati, L'Aquila,  Fondazione "Ignazio Silone", 2012.

Sulmona Garibaldi Square by Antonella Capaldo translated by Yulia Shcherbakova is distributed with the licence Creative Commons Attribution-NonCommercial-NoDerivatives 4.0 International.
Further permits in regards with the purposes of the present licence can be available via https://www.sulmonalive.it/contattaci.