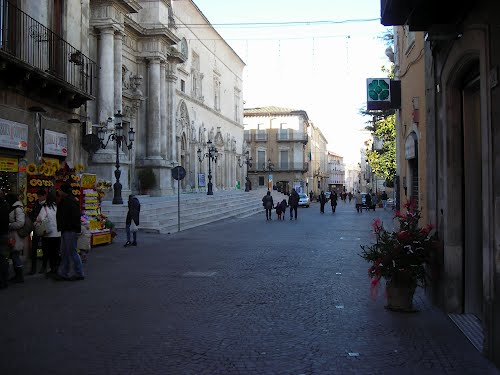 Corso Ovidio (Ovid Boulevard) is the most important street of the town, where shops and the most beautiful monuments can be found.
Etymology
Once an ancient consular road, it took its present name in 1872 in honor of the Latin poet who was born here. For a period of time it had been called the "Straight Street", though the etymology has nothing in common with the way the road goes – anything but straight.
Brief history and transformations
Originally, from the medieval aqueduct up to the Sulmona Cathedral (Basilica Cattedrale di San Panfilo) it was crossed by a large ditch, and, since it was used as a drain for the waters, rather than a main street it could have been called a bog.
In 1474 the city's Governor Polidoro Tiberti of Cesena ordered the discharge of waters and gave way to a series of interventions that soon made the street fully walkable. Then several other adjustments followed in order to make the street look better and raise the prestige. In 1900 a resolution was issued that imposed on owners of the shops to open their doors within (and not as before – protruding on the road), while in August 1963 the porphyry paving began and got finished on 4 December the same year.
Prior to this, the most important street of the town was the one that stands for the current Via Quatrario, with the consular road becoming more important since the years 1000-1100 when the town started to spread south beyond Porta Napoli.
The oldest part extends from the War Memorial (Monumento dei Caduti) till the Fountain of the Old Man (Fontana del Vecchio), with an enlargement near the Palace of Giovanni dalle Palle, the Venetian. The route stays straight up to this point, but deviates in several places from the Fontana del Vecchio to Porta Napoli.

Corso Ovidio Sulmona Click on the map for a bigger version

Corso Ovidio by Antonella Capaldo translated by Yulia Shcherbakova is distributed with the licence Creative Commons Attribution-NonCommercial-NoDerivatives 4.0 International.
Further permits in regards with the purposes of the present licence can be available via https://www.sulmonalive.it/contattaci.